Starting a vacation in Amsterdam is a beautiful way to begin a river cruise. The Netherlands is a country built in harmony with the sea, rivers and water as over one third of it is below sea level. So if there's any cool place to start an adventure on the water it's there.
We embarked on an 8 day Amsterdam river cruise that took us to several cities in The Netherlands and beautiful Belgium with Emerald Waterways. Our April tour culminated in the most beautiful way: with a viewing of the famed Dutch tulips at the world famous Keukenhof Gardens.

Our Amsterdam river cruise took us to:
Amsterdam (Netherlands, or NL)
Zaans Schans (NL)
Rotterdam/Delft (NL)
Veere (NL)
Antwerp/Bruges (Belgium)
Arnhem (NL)
Back to Amsterdam, including Keukenhof Gardens (NL)
We'll take you through each port and what we did in each area to help you decide if this is the best itinerary for you.
Emerald Waterways
We want to take a minute to note how wonderful Emerald Waterways was. We can't stress enough that the right cruise line can make or break your trip and we felt like we were in good hands with the crew and staff on Emerald. There was so much to do on the ship and we loved that the cost was all inclusive of all meals, beer and wine for lunch/dinner, excursions and gratuities. We had a few simple options for upgrades in two cities in particular, which we mention below in regards to Delft and Bruges. This took any budgeting guesswork out of the equation, letting us focus our attention on enjoying the trip, not our wallets.
Emerald Waterways is the Goldilocks of cruise ships: it isn't the fanciest river cruise company but it's not the simplest either. For us it hits a sweet spot – it's just right.
The cost of cruising on Emerald Waterways also makes it affordable for a younger clientele. We weren't the oldest on the ship but we weren't the youngest either. We felt amongst good company in our mid-thirties and early forties and easily made friends and great conversation.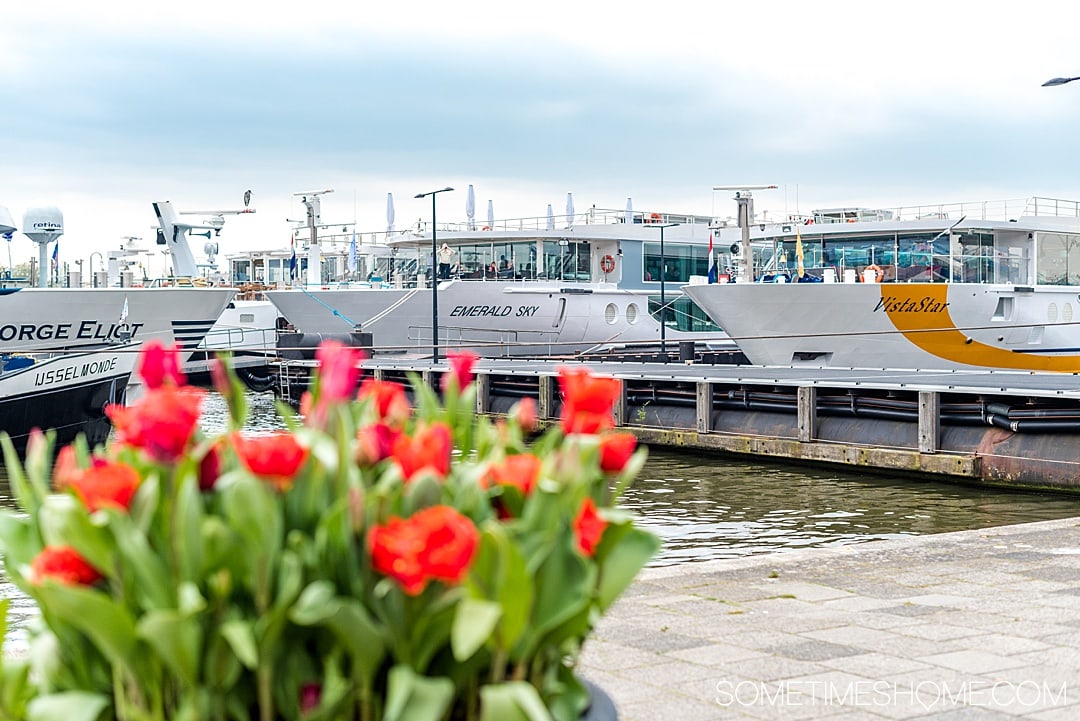 It's also important to note how easy it is to participate in the tours with Emerald. As we mentioned, a tour is included with your cruise nearly everyday. They have two "whispers" in each cabin you take with you that make hearing your tour guide a breeze. And if you took the ear piece out while on the tour, for instance, you wouldn't even know the people around you were on the tour! The "Quiet Voxes" are a respectful and efficient way to keep those on the tour together and informed and those not undisturbed. (They are the small, upright black and grey devices in the photo below in our cabin, which was also a hub of outlets to charge our phones and camera batteries when needed.)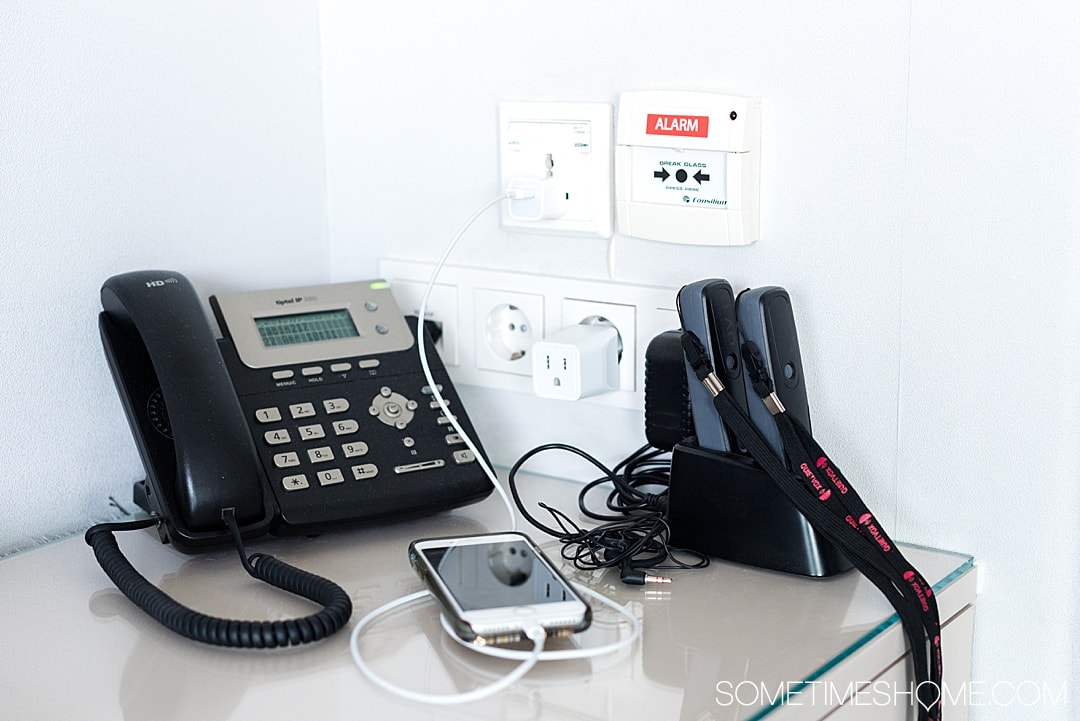 Starting and Ending the Trip in Amsterdam
Beginning and ending in Amsterdam was a dream. Amsterdam Schipol Airport (airport code AMS) is a major international airport. We easily flew in and out of there, connecting from RDU to BOS, then to AMS (our path was Raleigh > Boston > Amsterdam). We immediately found our Emerald Waterways representative at the airport after clearing customs.
A driver loaded our luggage into the trunk of a private van just outside the airport doors then took us to the port of Amsterdam, right near the center of the city, where we were able to drop off our luggage, have a bite to eat and drink before exploring Amsterdam at our leisure. This was all before the official start to our cruise later that afternoon. We made the most of our arrival day!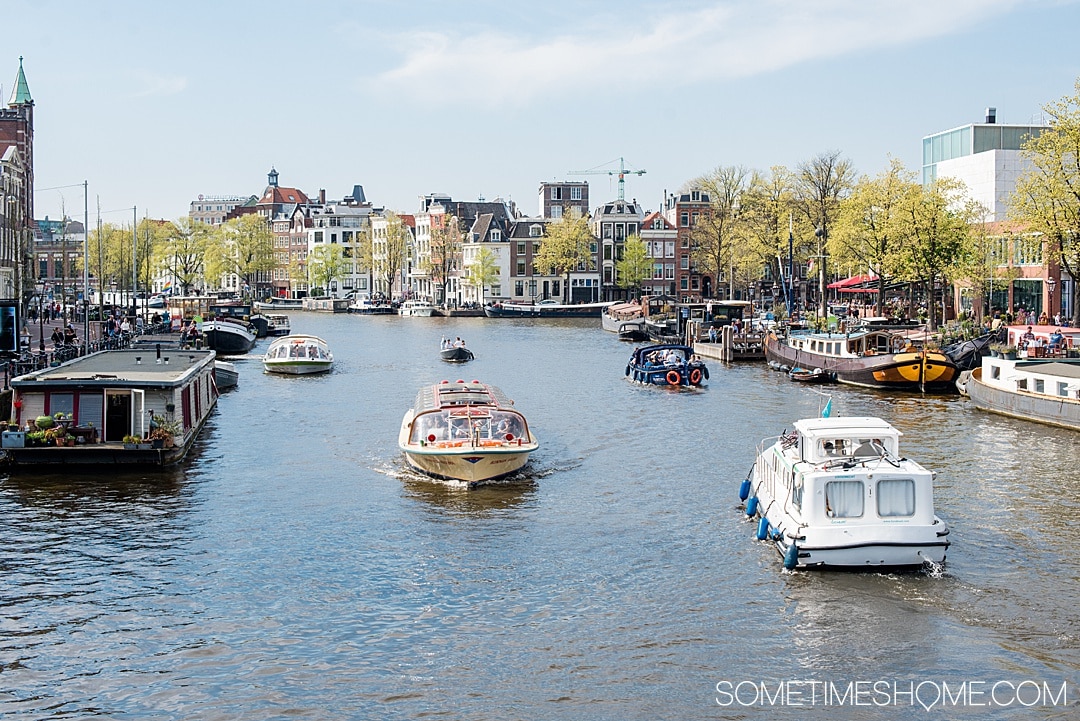 Amsterdam
There is so much to do in Amsterdam. We recommend extending your trip – either a few days before or after – to really enjoy the city and its surrounding areas. (Day trips from Amsterdam are plentiful and incredibly easy to do on your own as well.)
Extending your trip may mean you forego the assistance of Emerald Waterways to get to or from the airport one way (you have to take their transportation directly between the airport and port at the start or end of your vacation) but it's SO simple to get from Amsterdam city center to the airport it'd be silly for that to deter you from a few days extension.
If you approach the port and don't see your ship it's likely because the river cruise ships are often stacked several boats deep. This is common amongst a lot of ports. Sometimes you may even need to walk through the lobbies of other ships to get to the shore.
We stayed docked overnight in Amsterdam after the first day because the next day's location was just a bus drive away.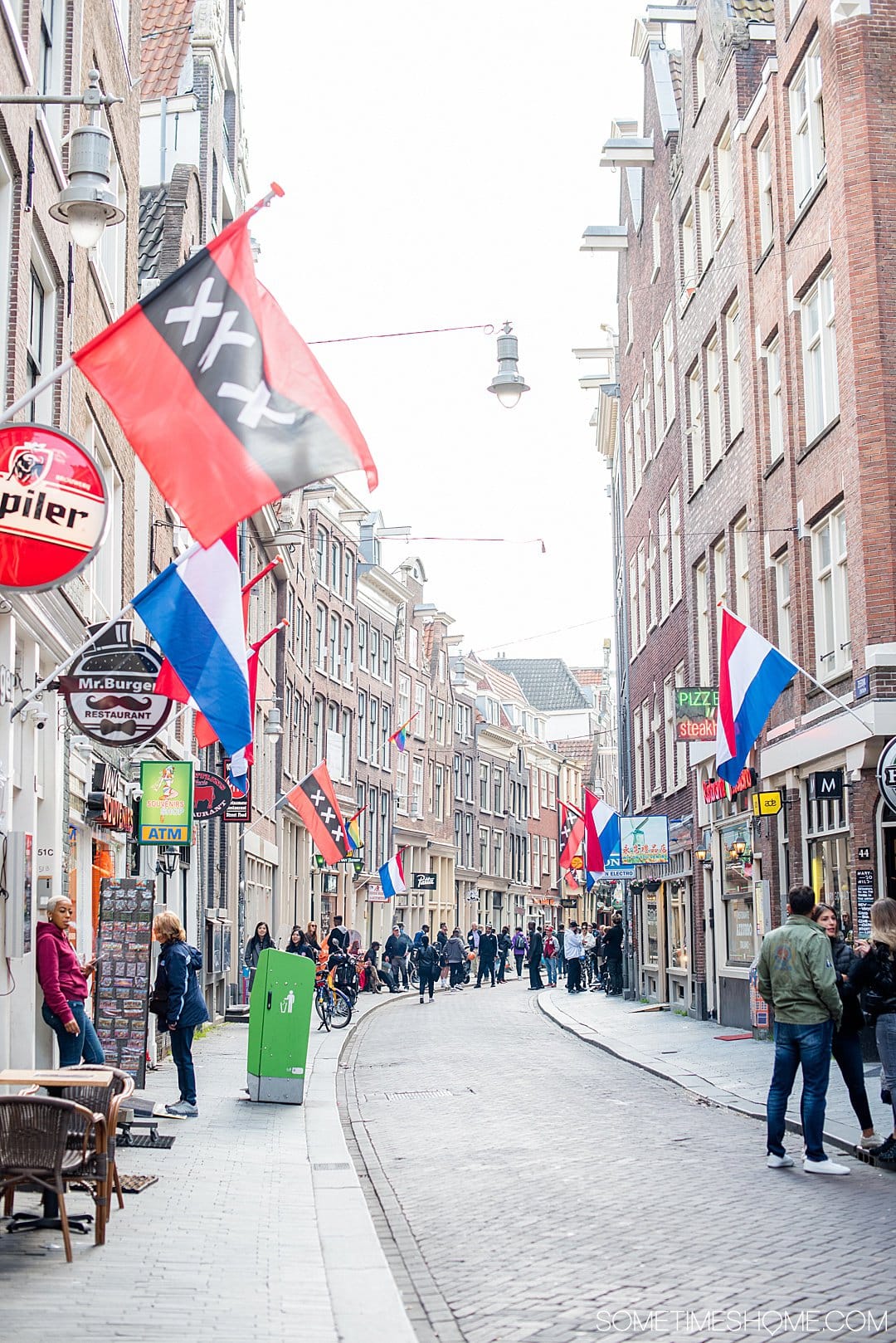 Zaans Schans
This was one of the most fun stops because it was so iconically Dutch! Windmills filled our view and we enjoyed a clog making demonstration. We had plenty of time to leisurely stroll the grounds and recreated 18th century village with green wooden houses after an informative tour with our Emerald Waterways guides. We loved getting up close and personal with the windmills and hopping into a giant clog for a photo opp!
Zaans Schans was easily reached in the comfort of a modern, branded coach bus Emerald Waterways provided. It was about a 30 minute drive from the port of Amsterdam and the scenery on the way was worth getting a window seat for.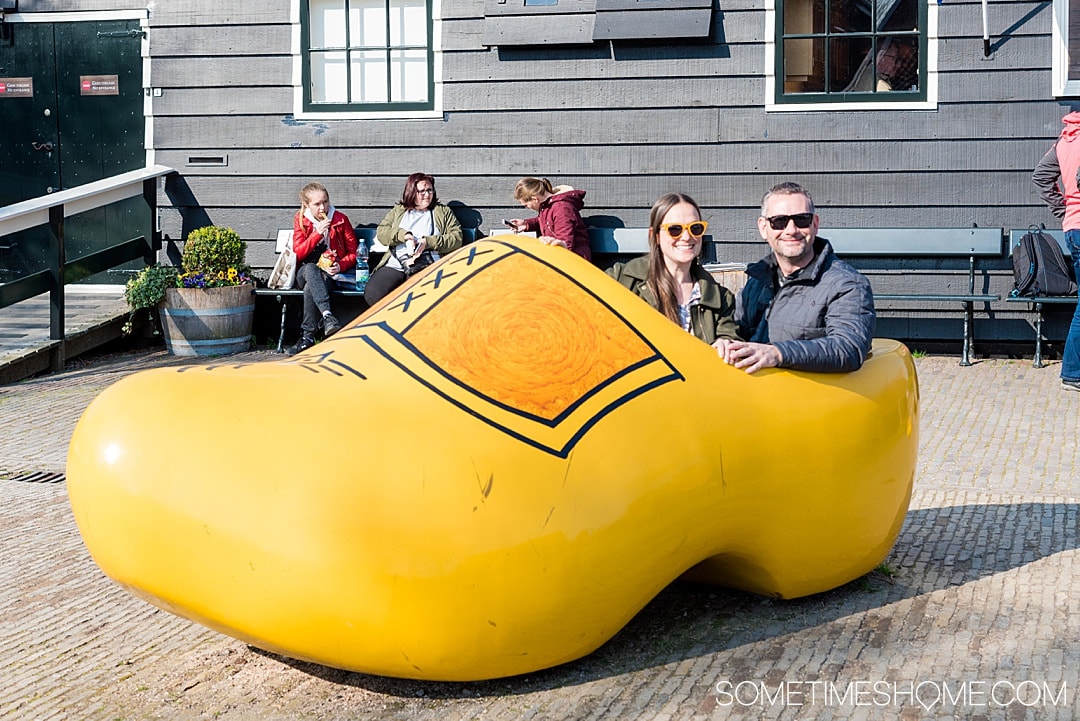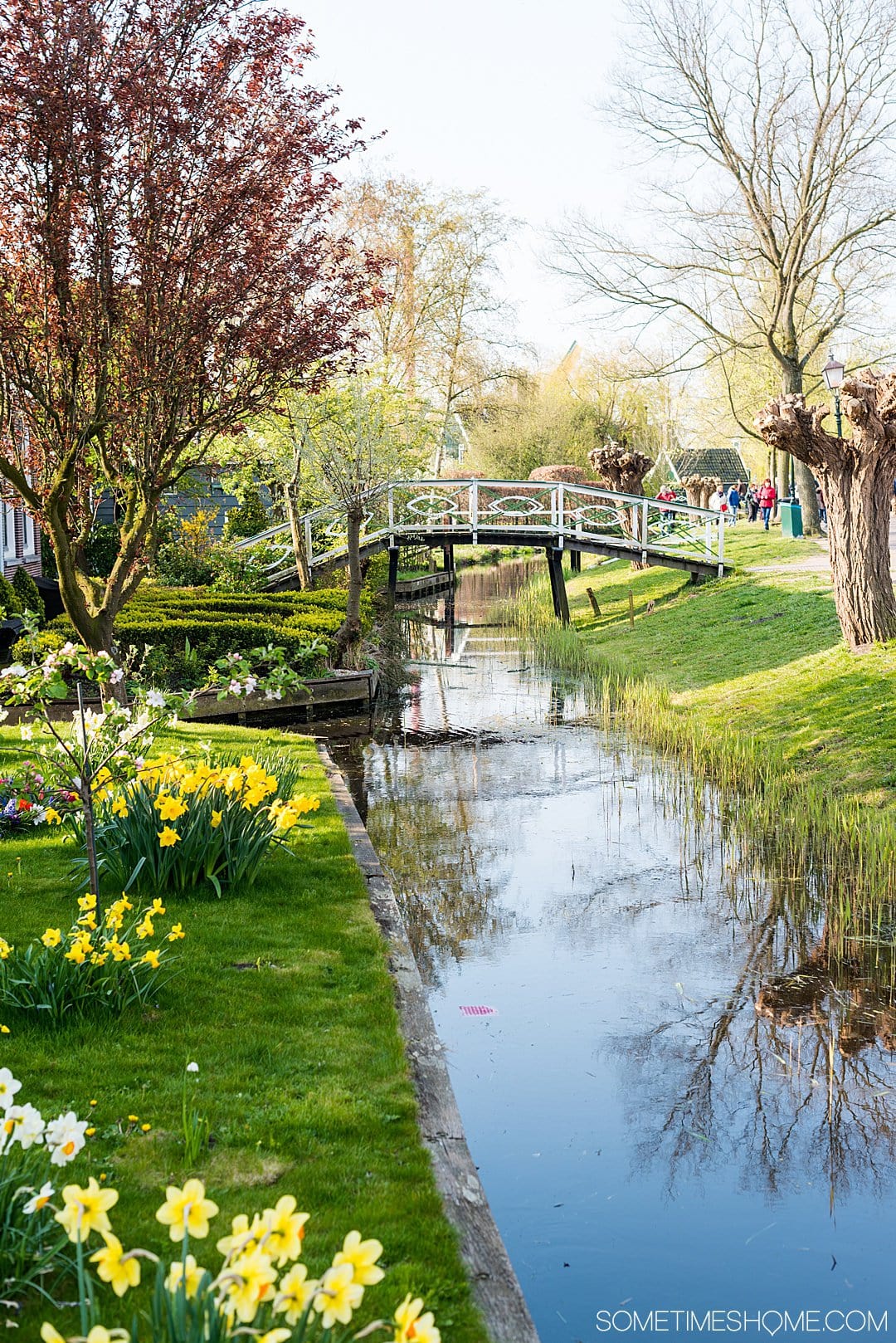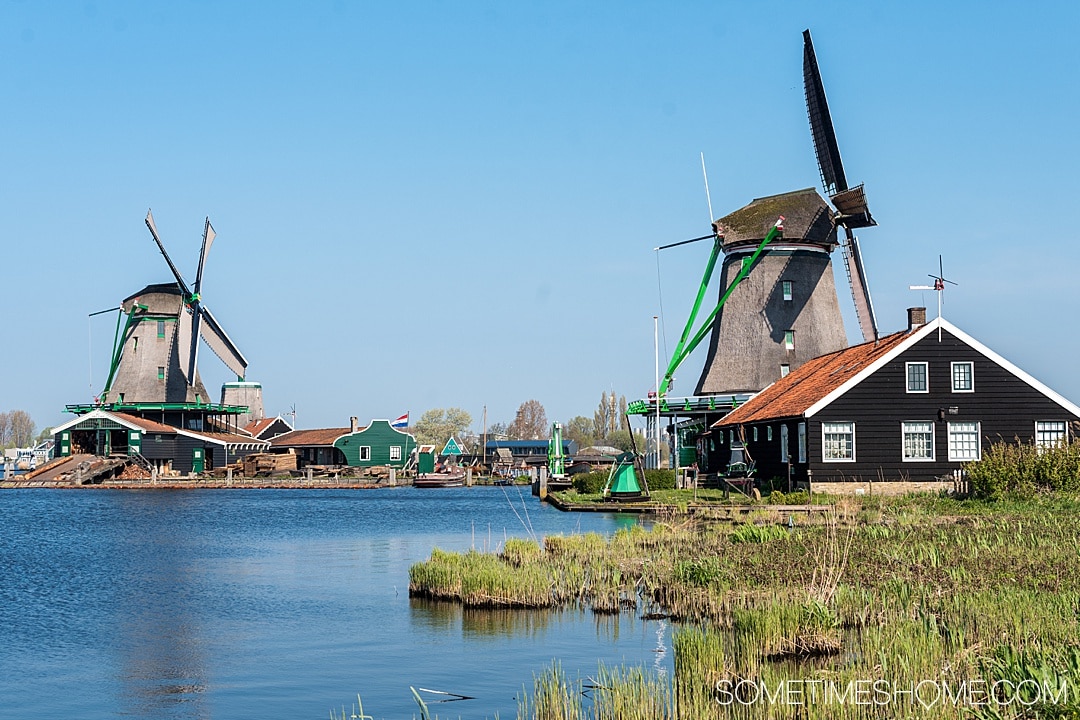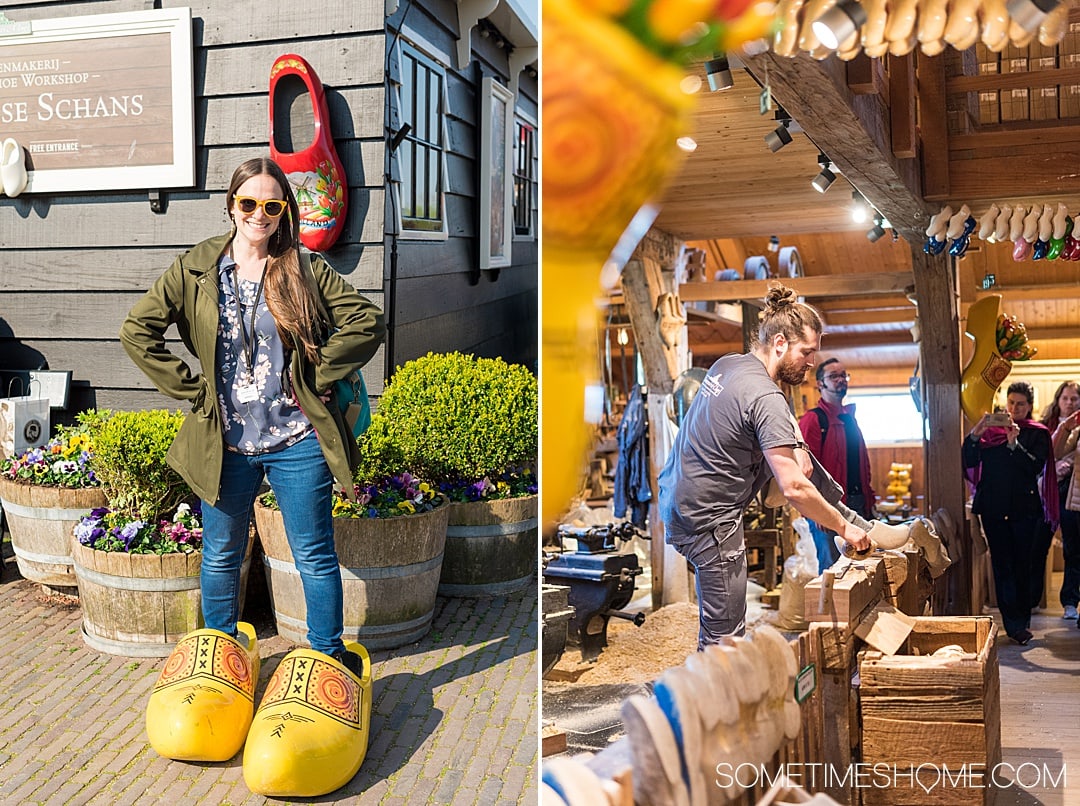 Cheese is such an integral part of the Dutch culture; as an added bonus we visited a Henri Willig cheese farm on our way back to the ship, established in 1974. It was cool to learn how the cheese is made and see it aging on shelves since the Henri Willig shops are all over the Netherlands, yet you only get to see how it's made in a select few places.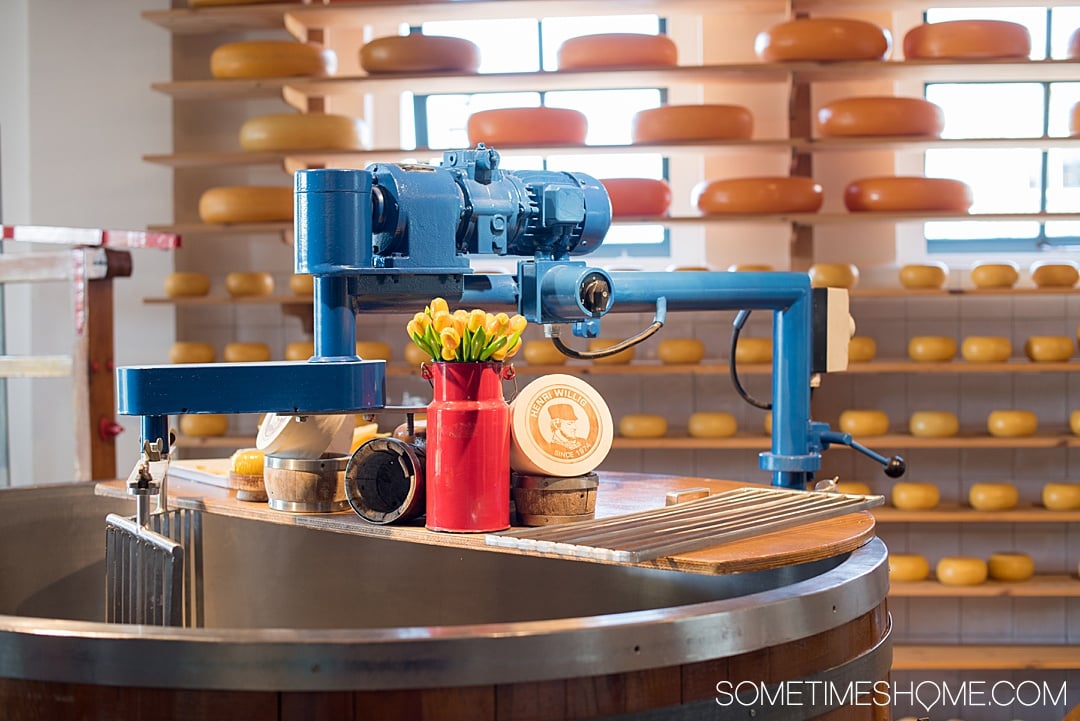 Rotterdam/Delft
The third day presented an opportunity to participate in the DiscoverMORE program with Emerald Waterways. We wanted to see the artistry that went into the famous "Delft Blue" pottery so, without hesitation, we signed up for the tour. At less than €60 extra per person it was worth the experience to further enhance our understanding of Delft and the role it played in the history of The Netherlands. It ended up being a highlight of our Amsterdam river cruise trip.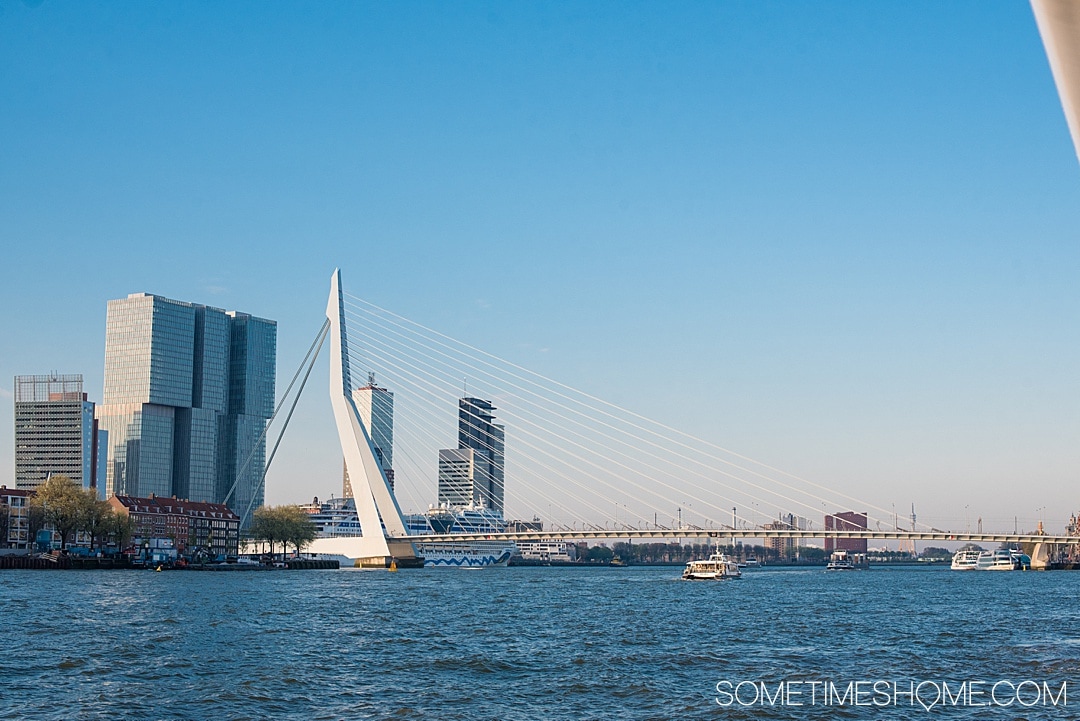 Alternatively, guests were able to take an included tour of Rotterdam in The Netherlands, a very interesting modern city with great architecture where the ship docked. Thus, even though we didn't particularly get an extended tour of the city as we headed to Delft on Emerald Waterways buses (which were conveniently just steps away from the boat) we did get to view the city on an abbreviated bus tour and learn about some cool things there.
We embarked on a morning tour of the Royal Delft Pottery factory, one of the last remaining of its kind. It was fascinating to see a woman hand painting in black paint, which we learned turns blue after a firing in the kiln. Afterwards the bus took us to Delft's city center where our guides took us on a short yet informative tour for an overview of the area and it's history. We were then given free time to enjoy Delft's charming city center (where the church steeple is actually leaning, as you can see in a photo below and the grand facade of city hall dominates the main square) until it was time to head back to the boat.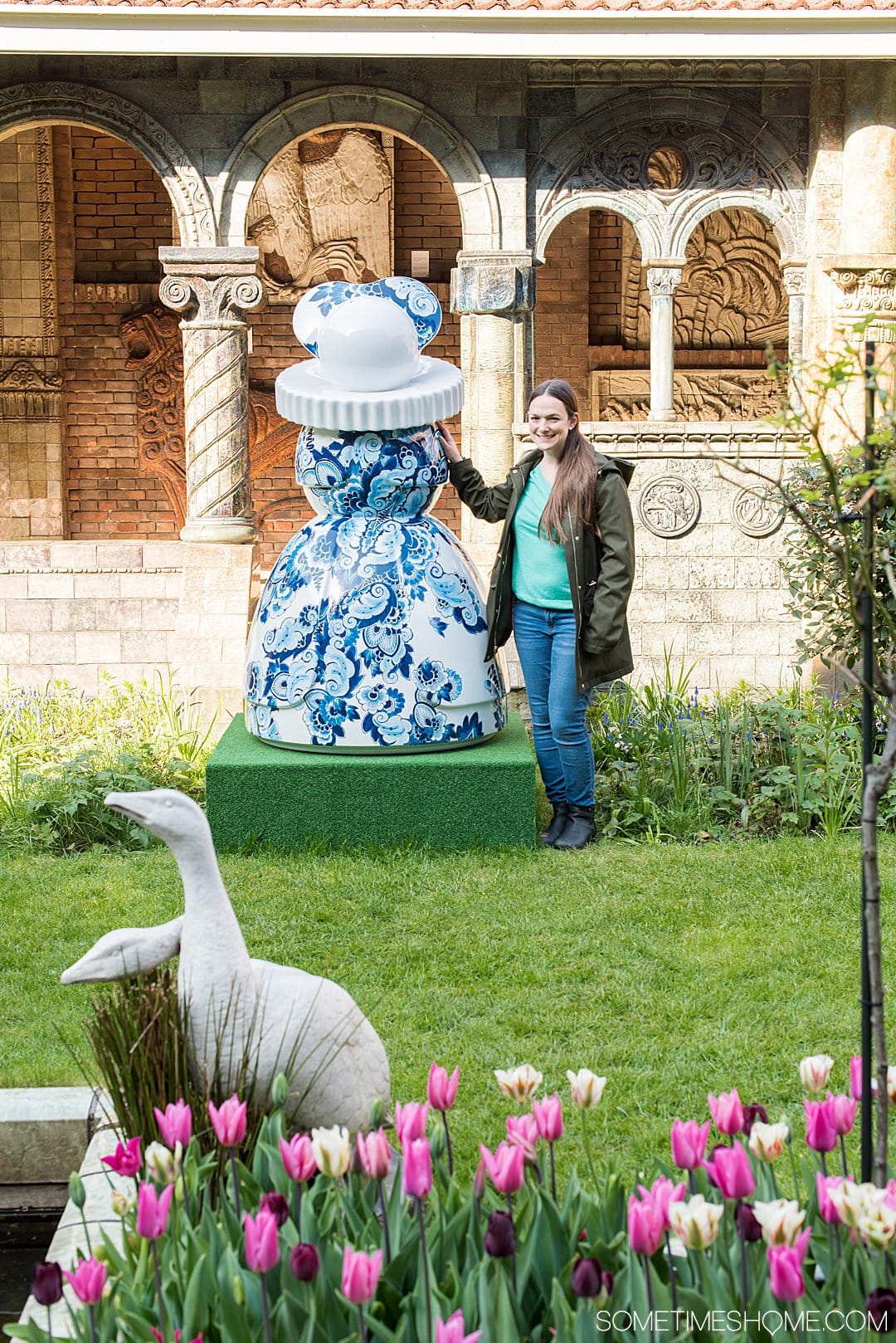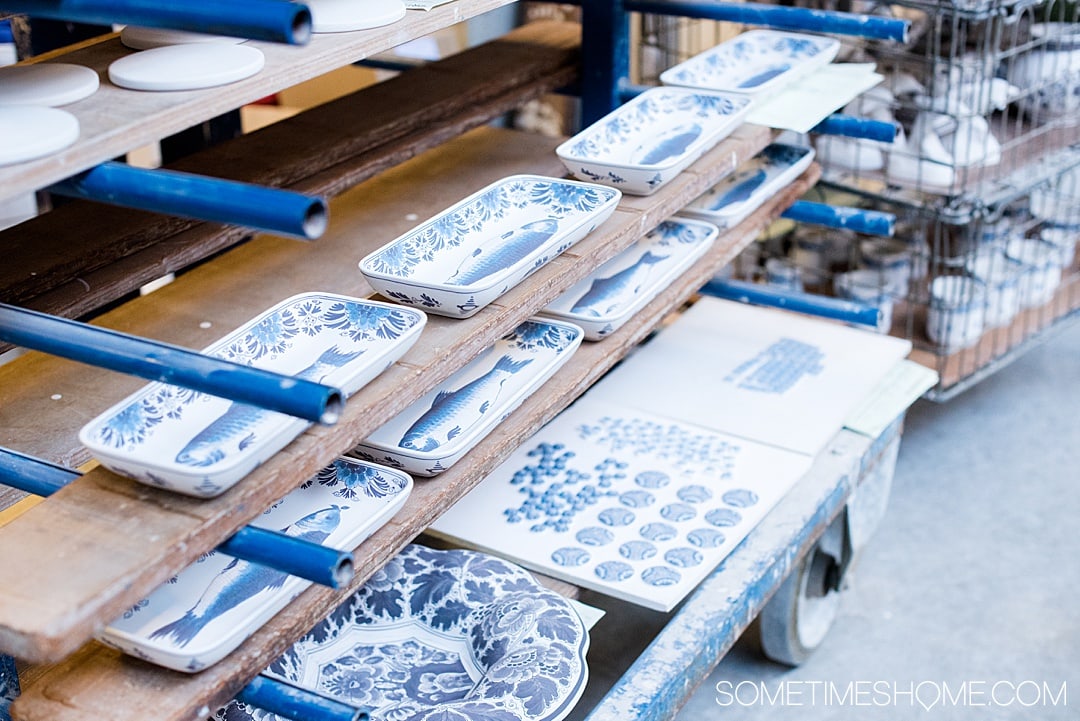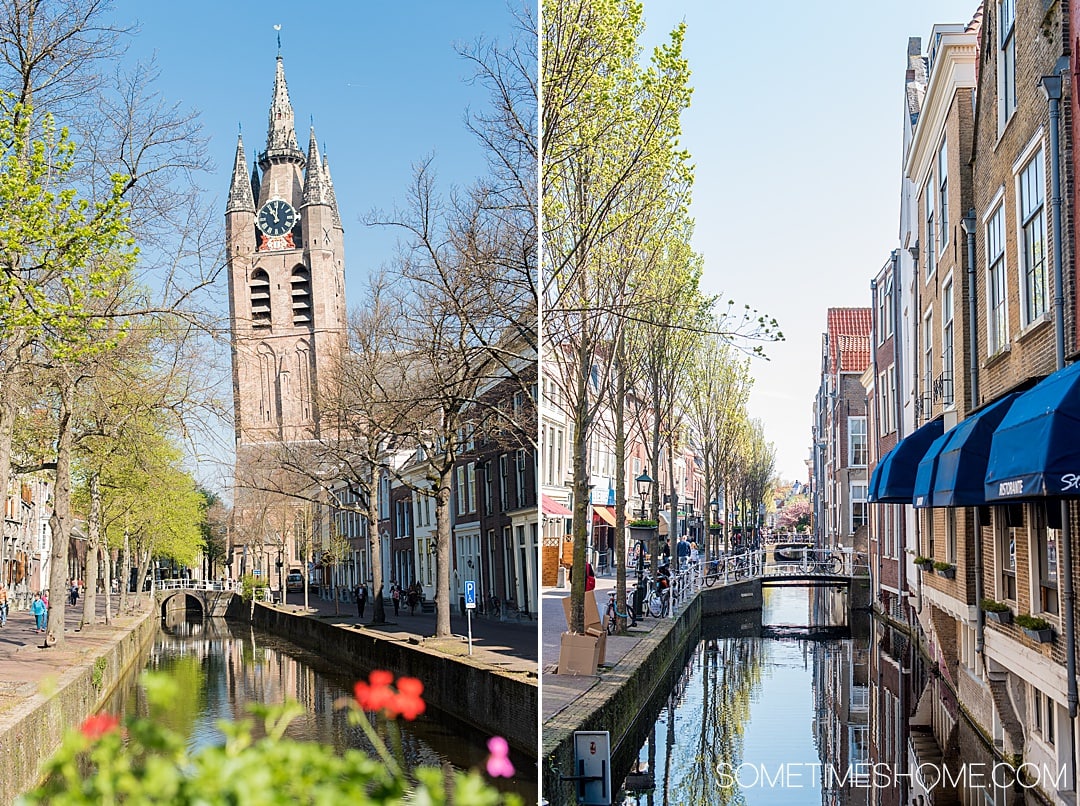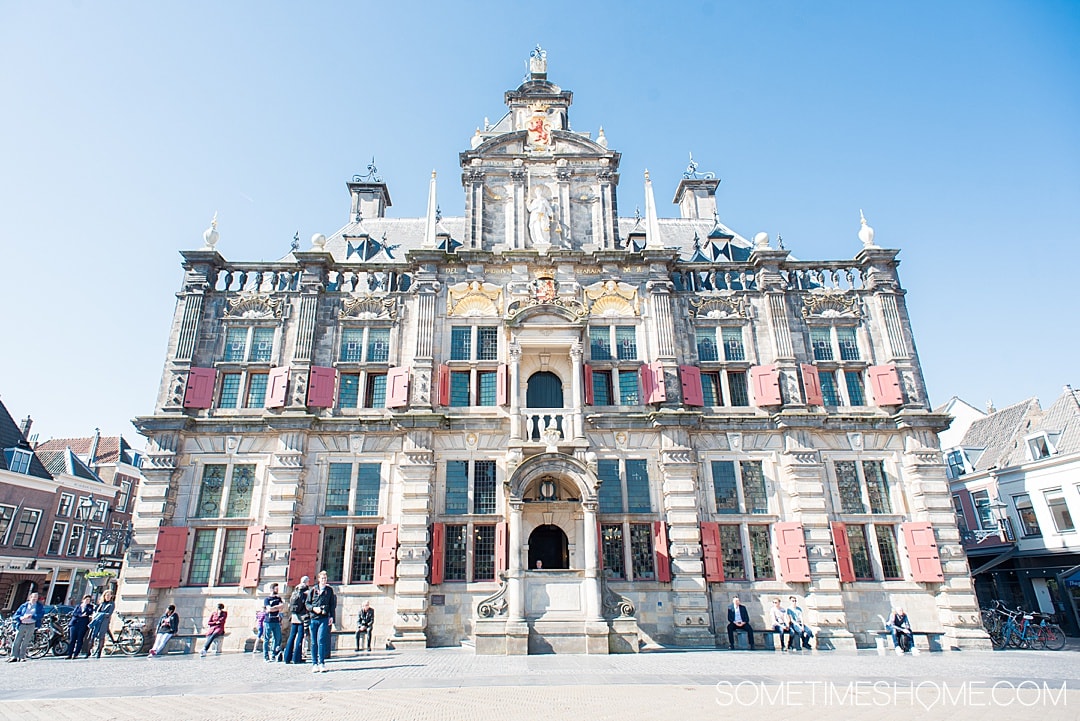 Veere
A town named "Veere" never came on our radar until we saw it on the itinerary for our Amsterdam river cruise. We Googled it and thought, "It looks like a cute town!" and we were excited to visit.
The great thing about Veere is the boat pulls right up to the charming village, just a few hundred yards away from its town center. It is a small port that packs a lot of punch with picturesque scenery no matter where you turn.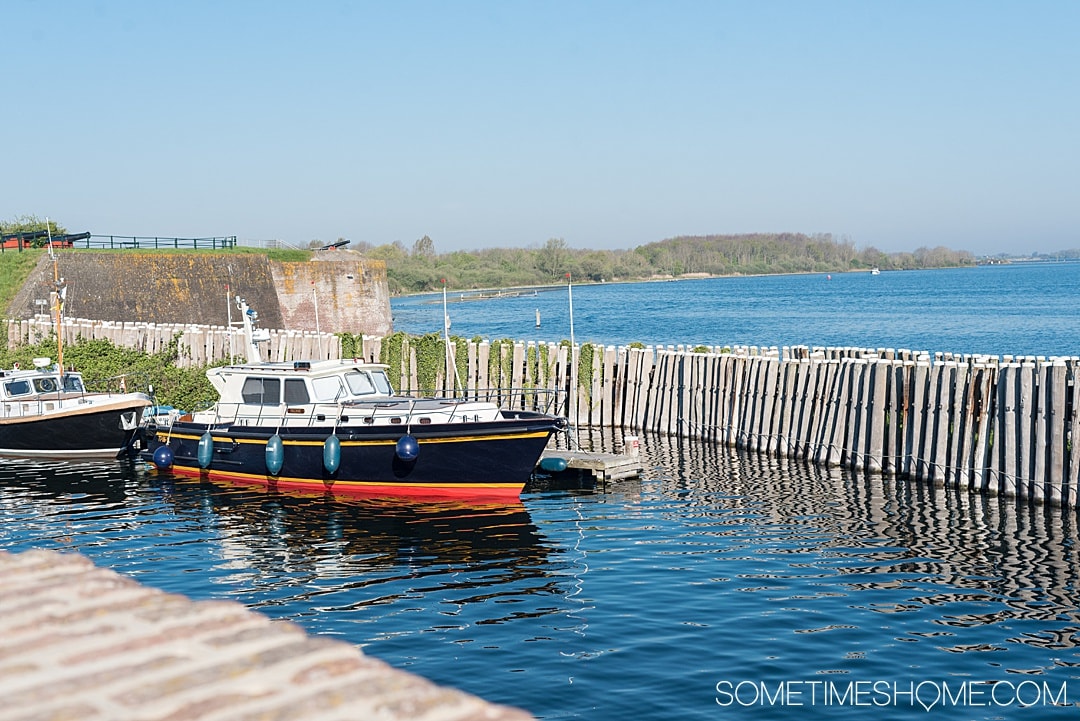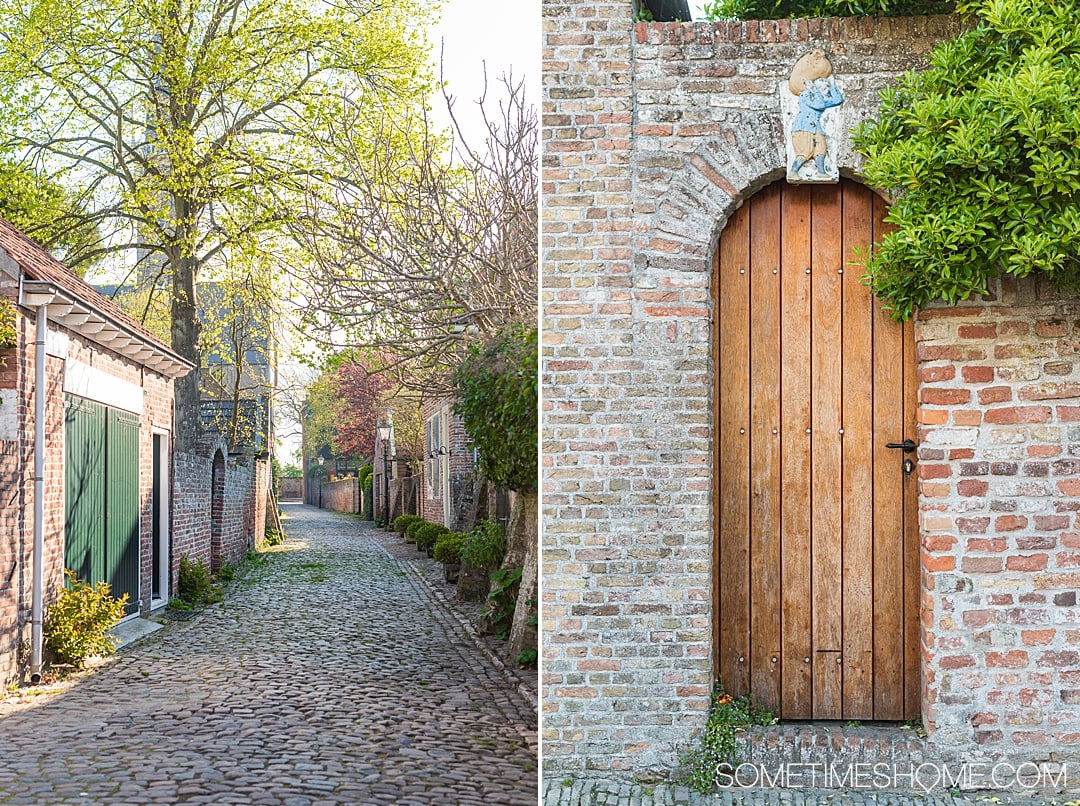 We put on our earpieces for our "Quiet Vox" devices and walked over to our guide for an Emerald Waterways tour that morning, which included the town of Veere as well as an optional trip to Dutch Delta Works, one of the seven wonders of the modern world. We were free to roam Veere in the afternoon. (During the morning walking tour, we quickly realized we would want to return for beers in their town square after lunch on the ship.)
A note on Dutch Delta Works: we admit this isn't perhaps for everyone. It's a lot of engineering information and if you're not into that kind of thing you may want to skip it. However, we were glad we went because it gave us a much better understanding of The Netherlands and it's relationship to the water.
The Netherlands has had to deal with living with the ocean and all that provides in a unique way since just over 40% of it is below sea level: from rivers overflowing, to drastic rising and falling of tides, and more, for as long as they've been a nation. Seeing the Dutch Delta Works first hand provided an understanding of this relationship in a much deeper than if only looking it up online or reading in a book. You can't imagine how vast the project is and how the dams, locks, and storm surge barriers work unless you see it with your own eyes. It was a true behind-the-scenes look at how The Netherlands has come up with innovation, science and technology to live with mother nature in command.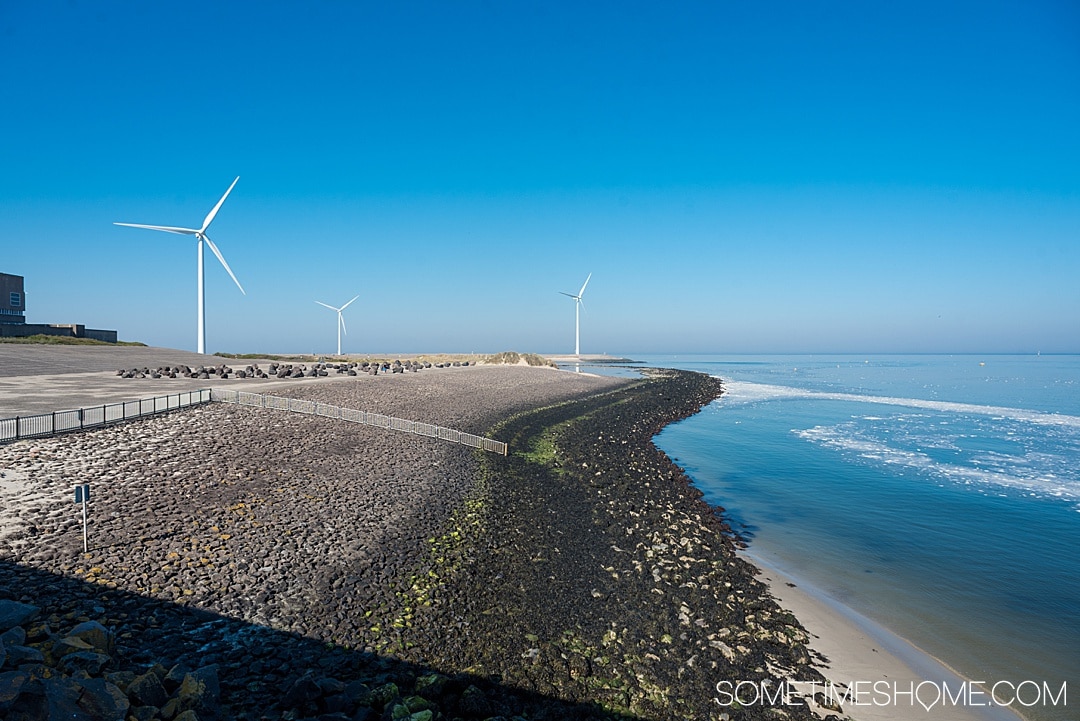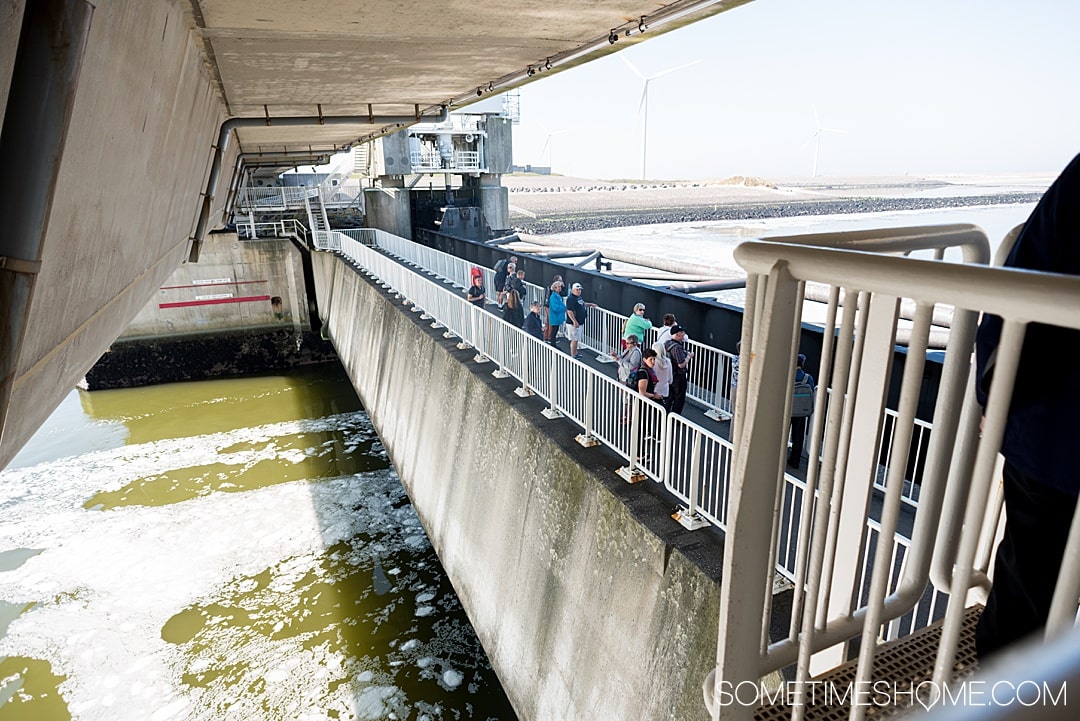 Antwerp and Bruges
The day we docked in Antwerp was a bit unique because it was Easter Sunday. We were well informed by the ship's cruise director a lot of things in Antwerp may be closed because of the holiday. Thus we signed up for DiscoverMORE and loaded the buses to Bruges. We'd have time to explore Antwerp a bit after we came back from Bruges.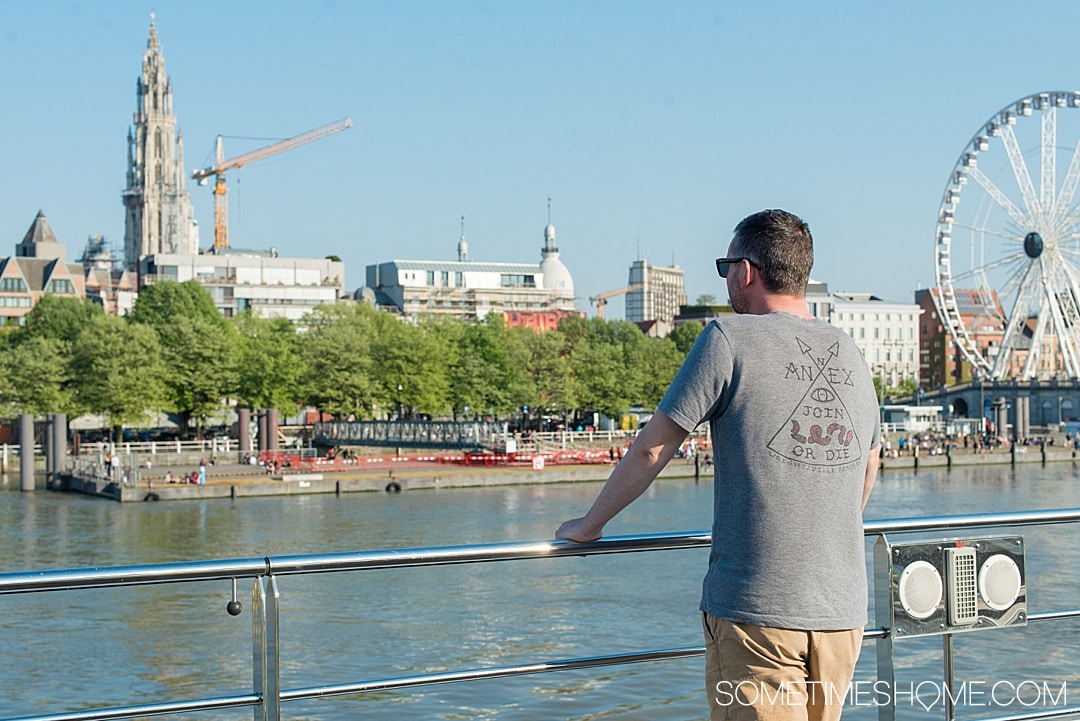 We loaded buses and arrived in this historic Belgium city; Bruges was packed with tourists. We think all the tourists from any surrounding city or river cruise ship had the same idea that day! But packed or not, you cannot deny the beauty of this beautiful town, often referred to as the Venice of the North.
We enjoyed mussels and fries at a restaurant with new friends we made on the ship and people watched, then had some time to shop before heading to the buses back to the ship. We opted to simply walk into Antwerp at that point to quickly roam the streets and see whatever we could in the two hours or so time we had before the "all aboard" time at 5:45pm.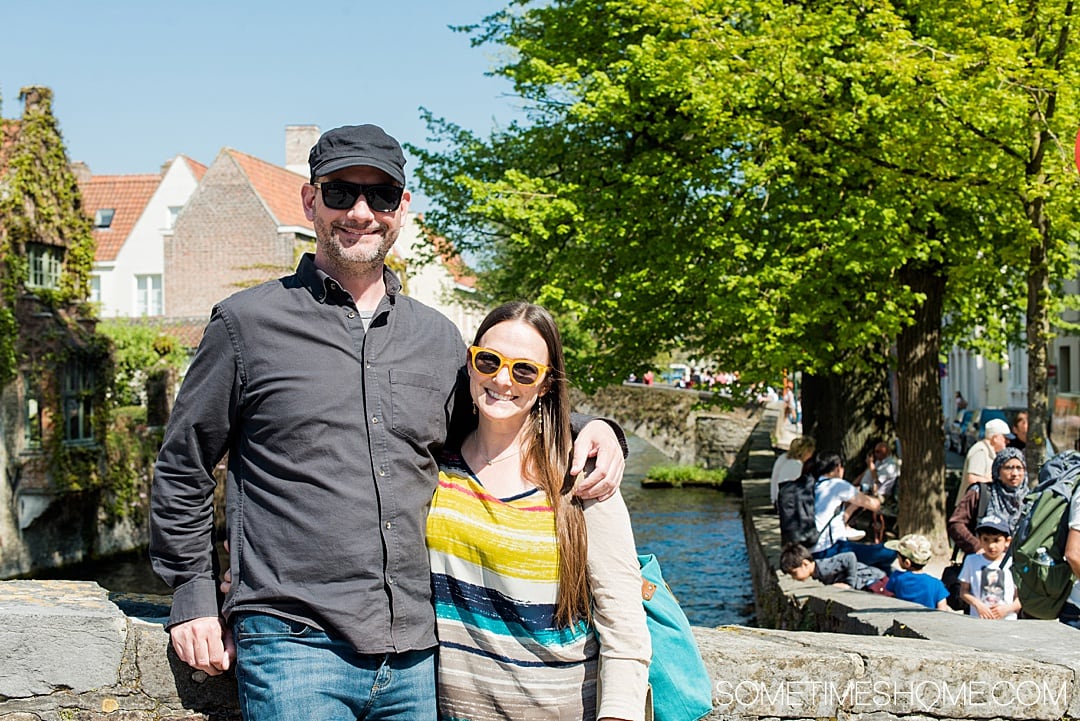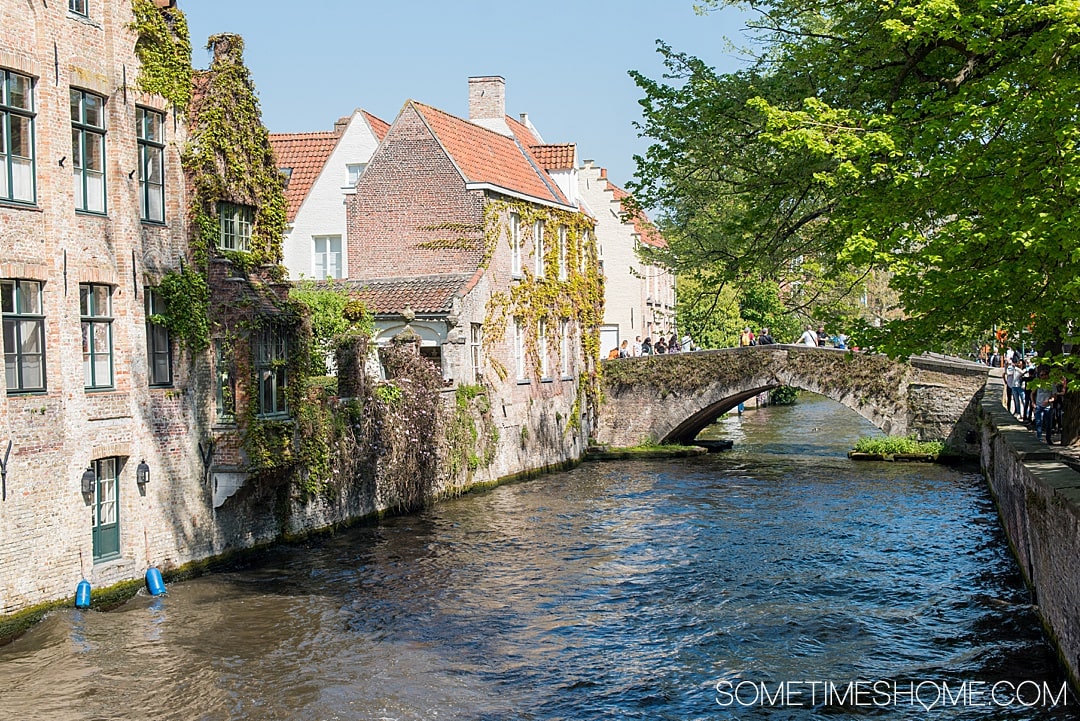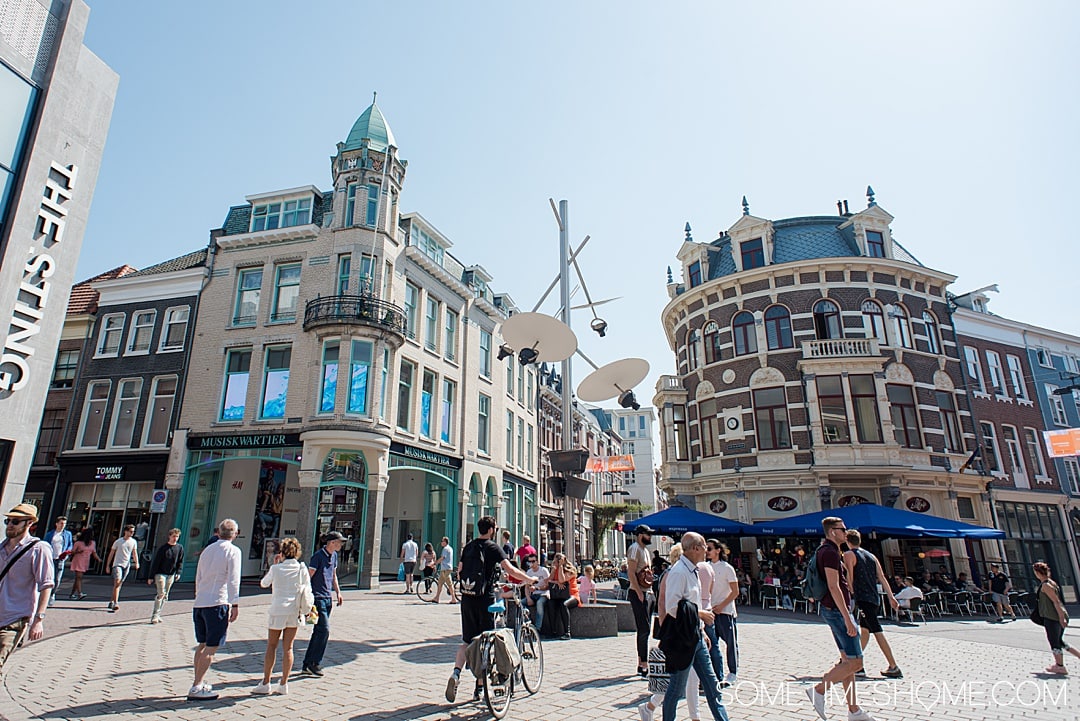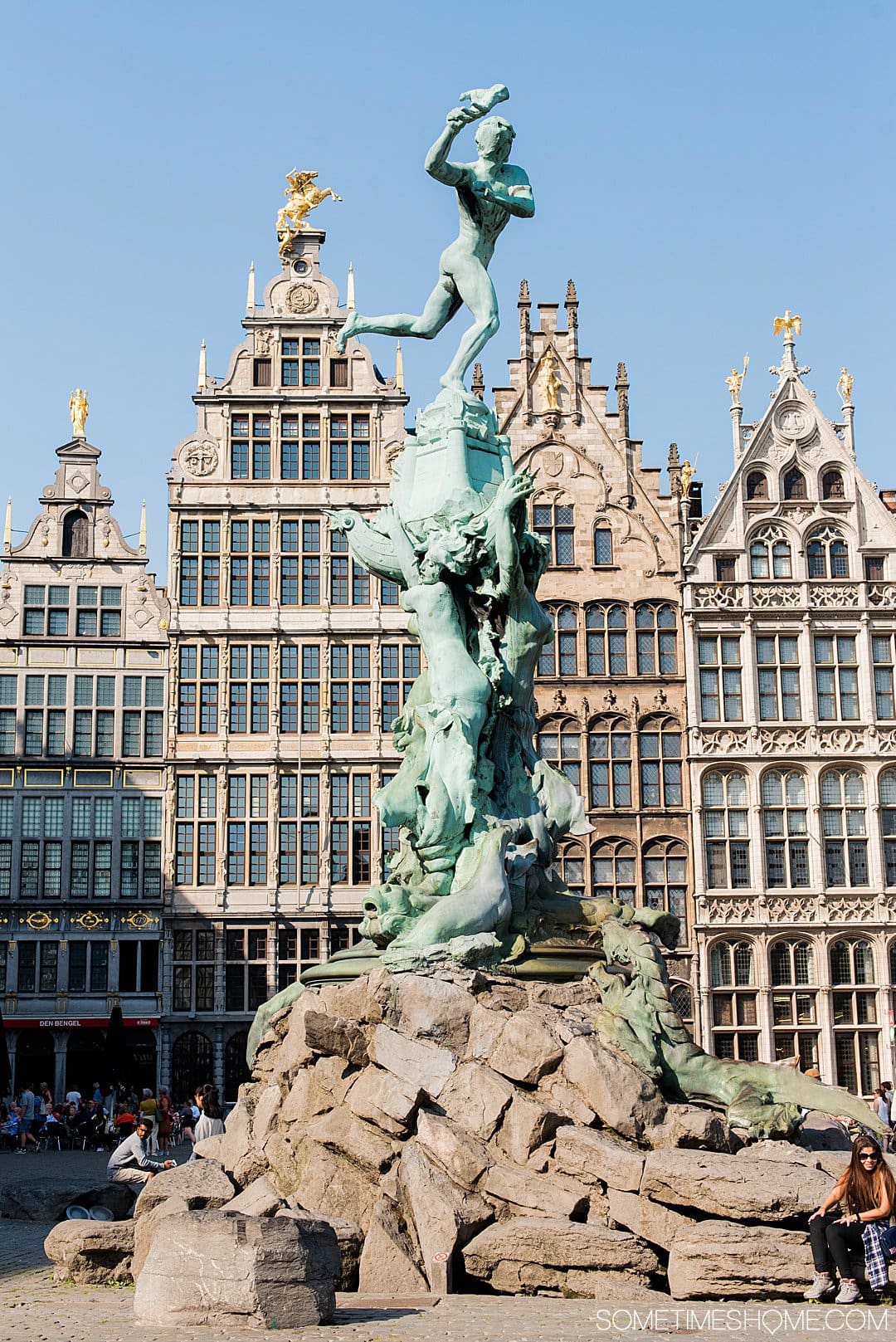 Arnhem
We've really grown to have a deep appreciation for those who fought in WWII and the sacrifices soldiers and civilians had to make during the years of the war. (And the sacrifices soldiers continue to make everyday for their countries.) We've learned this most closely through travel in Europe.
We had also not been aware of what made Arnhem notable until the Amsterdam river cruise, but that's part of what we love about cruising: the ports on each itinerary open us up to new places we wouldn't have otherwise thought to visit.
The ship docks right near the John Frost Bridge, made famous first by WWII and what happened at Arnhem (which you learn about at the museum you visit that morning). But secondly by the film based on the series of events of the war in Arnhem, titled A Bridge Too Far. We had never seen the film – luckily we were informed it was on demand in our cabins! So we watched a bit of the film that evening.
We docked during the morning, around lunch time. We left the ship at 2:00pm to head to the Hartenstein Airborne Museum followed by a visit to the Airborne Cemetery to pay our respects to more than 1,750 troops buried there.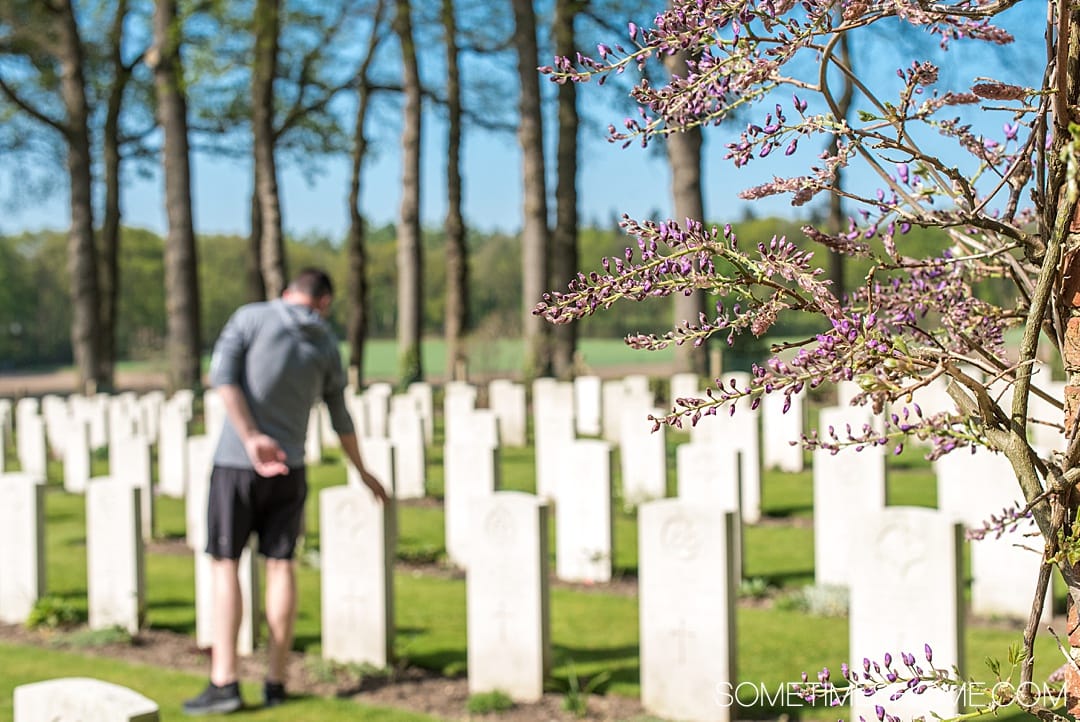 After a thoughtful afternoon we arrived back at the ship to refresh. Always ones to explore we headed back out just minutes later to see more of Arnhem. The city was beautiful and a mix of modern and old – surely, partially a result of rebuilding after the war.
We loved spotting street art along the waterfront and at a few places within the city. (If you follow us on Instagram you know we love street art! We're especially sure to post about it on our Instagram Stories when we travel.) It was interesting to see such a juxtaposition between our activities that afternoon, just hours apart, yet in the same city: education about the war in the 1940s and also modern street art from the 21st century.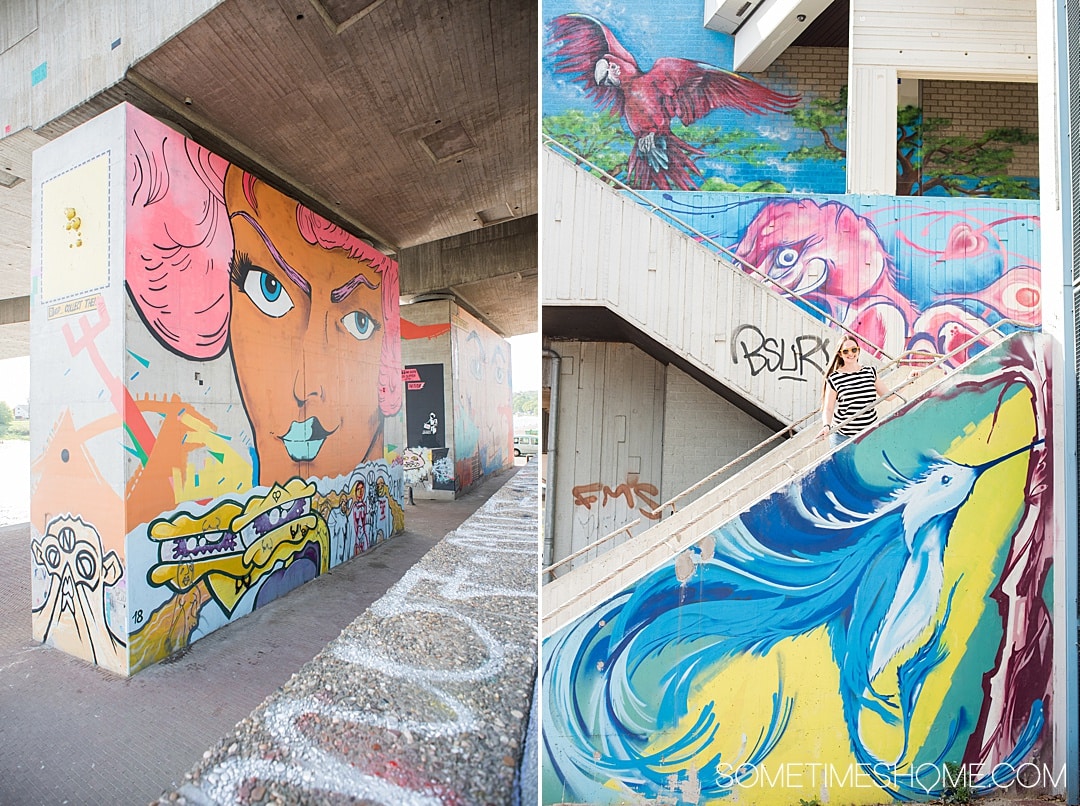 Amsterdam's Keukenhof Gardens
The last full day of the cruise we returned to Amsterdam, and awoke already in port ready to board the buses for the 45 minute drive to get to our destination. We were over-the-moon to be going to the famed Keukenhof Gardens, boasting over 79 acres of land filled with spring blooms. Did you know that there are over 5,000 varieties of tulips? We didn't either! Tulips are surely the star of the show here but there's a ton of other flowers as well, including orchids and daffodils.
Due to the popularity of the gardens in previous years, Emerald Waterways was incredibly accommodating to two groups on this day trip: those who wanted to stay a few hours and those who wanted to stay even longer through lunch. They provided buses back to the port at two different times: 12:30pm giving us three hours in the gardens or at 2:30pm for even more time.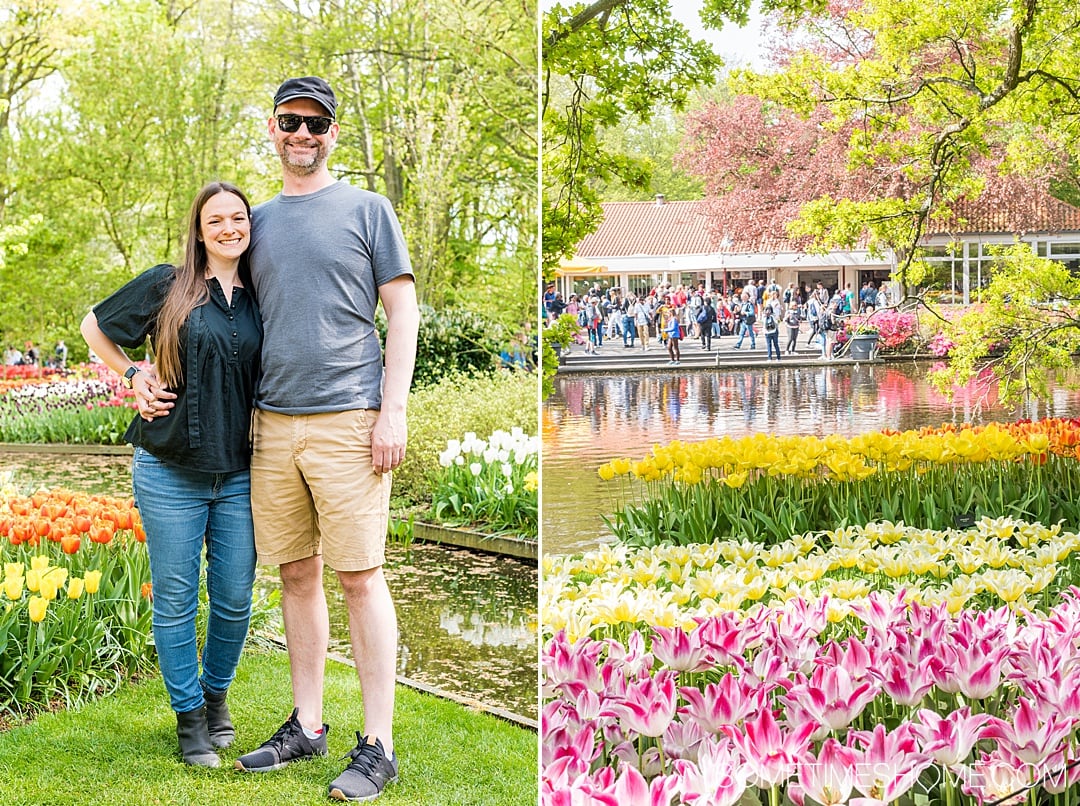 We ended up leaving on the first buses that left to go back to the cruise ship. Three hours was plenty of time to roam the gorgeous space until lunch, when the gardens naturally got busier and busier with increasing crowds arriving by the minute. (It's bound to be busy any time you visit Keukenhof – it's a Netherlands sensation and is only open from mid-March to the beginning of May. Demand is high, supply is low.)
After we arrived back at the ship we enjoyed lunch onboard for the last time during our trip and headed out to explore Amsterdam again. (Remember the port is very conveniently located by Central Station so it's really easy to walk to the main areas of central Amsterdam from there.)
The Last Morning
We awoke sad, with the knowledge we had to get off our Emerald Sky ship that day. However, we were so thankful for the incredible 8 day cruise, experiences and people we met. We had our favorite breakfast items before slowly saying goodbye to all our new friends and taking our luggage off the ship to our new hotel for two nights, just across the water.
Amsterdam River Cruise Thoughts
We cannot recommend this itinerary enough. It felt like a once-in-a-lifetime trip; when else would we have a unique opportunity to see The Netherlands, particularly, in bloom in all her spring splendor?
Our Emerald Waterways river cruise was called "The Netherlands and Beautiful Belgium." In 2020 it was titled, "Holland and Belgium in Bloom," and for 2021 it's named "Springtime Delights."
Though the name may slightly change beyond 2020-2021, and perhaps even a port here or there, we hope they keep the roundtrip to Amsterdam an option in April to experience the tulips at their finest. And if you're lucky like we were, ideal spring weather to boot with sunshine and 70 degrees greeting us each day!
It felt exclusive to be on board for this roundtrip Amsterdam river cruise itinerary because Emerald Waterways only does less than a handful of this sailing a year due to the short lifespan of tulips. Yet the good news is anyone can sign up to go, as long as there is still availability. Be sure to book ASAP if you know this is the cruise for you because river cruise capacities are only around 200 guests, which means opportunity is scarce. You need to claim a cabin and spot on the boat before someone else does! And the best time to book is now.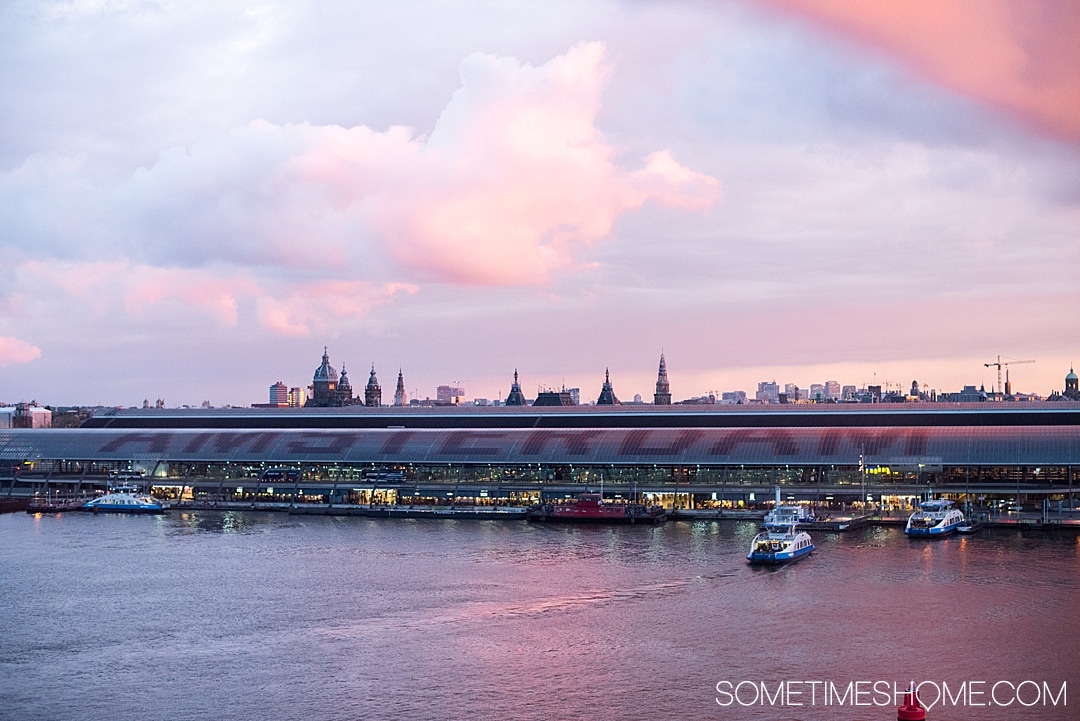 Please note: we thank Emerald Waterways for generously hosting us. All the opinions in the post are ours and we bring you genuine content with real facts, photos and thoughts. Always.
Heading to The Netherlands or sailing with Emerald Waterways? Also check out:
Have you been on a river cruise?